Thanks to everyone who supported Tubman's first Purple Purse Challenge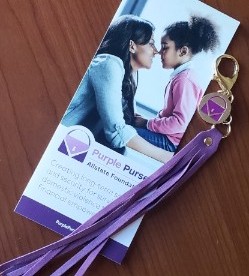 During the month of October 2018, we were able to raise $21,783 in the Allstate Foundation's Purple Purse Challenge, with an additional $1,244 in gifts prompted by this campaign. Thank you so much for your generosity and support of our mission of safety, hope, and healing. 
The Allstate Foundation is a long-time champion of financial empowerment as a way for survivors to regain control over their situations and meet their goals for the future. Each year, the foundation hosts the Purple Purse Challenge to raise money for domestic violence organizations, and we were a part of it for the first time this October. The friendly, nation-wide challenge includes opportunities for nonprofits to win additional funds from the foundation, as well as incentives including unique charms and a purple purse designed by a celebrity spokesperson. This year's purse was designed by Serena Williams.
This was our first time participating in this challenge, and we are so grateful for the response we saw. The funds raised will be used to provide life-changing services to victims of trauma, including domestic violence, sexual assault and exploitation, addiction, mental health issues, and more. 
To learn more about other ways that you can give safety, hope, and healing, call 612.825.3333.