Upcoming Training Series: May 2019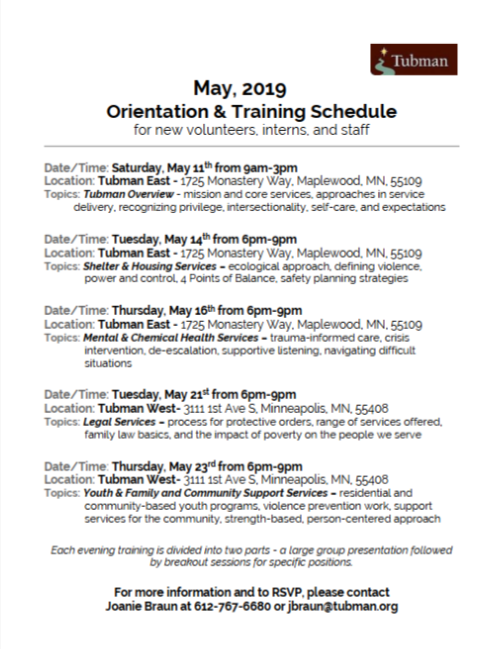 Upcoming Volunteer and Intern Trainings
Condensed Training for Harriet's Closet and Childcare volunteers

When: 4-7 p.m. Monday, March 18, 2019
Where: TBD

Interested in getting started volunteering before May? Love working with kids or with clothes? Know someone else who does? Apply today to become a Childcare or Personal Shopper in Harriet's Closet volunteer and attend our mini-training on March 18. Learn about Tubman, our philosophies, who we serve, and get to know a little more about the roles in which you will be serving the community.

Apply today, or call 612.825.3333 with questions or for more information.
Safety Project Attorney Trainings
March 5, 2019

To register: Send your name and contact information to safetyproject@tubman.org. Call Katy at 612.870.2424 for more information
8:30 a.m. to 12:30 p.m. Tuesday, March 5, 2019

Generously Hosted by:
Fredrikson & Byron
200 South Sixth Street, Suite 4000
Minneapolis, MN 55402-1425

Presenter: Shiloh Bute, Esq., Staff Attorney Tubman

June 5, 2019

To register: Send your name and contact information to safetyproject@tubman.org. Call Katy at 612.870.2424 for more information
8:30 a.m. to 12:30 p.m. Wednesday, June 5, 2019

Generously Hosted by:
Dorsey Whitney
50 South 6th St #1500
Minneapolis, MN 55402

Presenter: Shiloh Bute, Esq., Staff Attorney, Tubman