Upcoming Training Series: January (Spring) 2020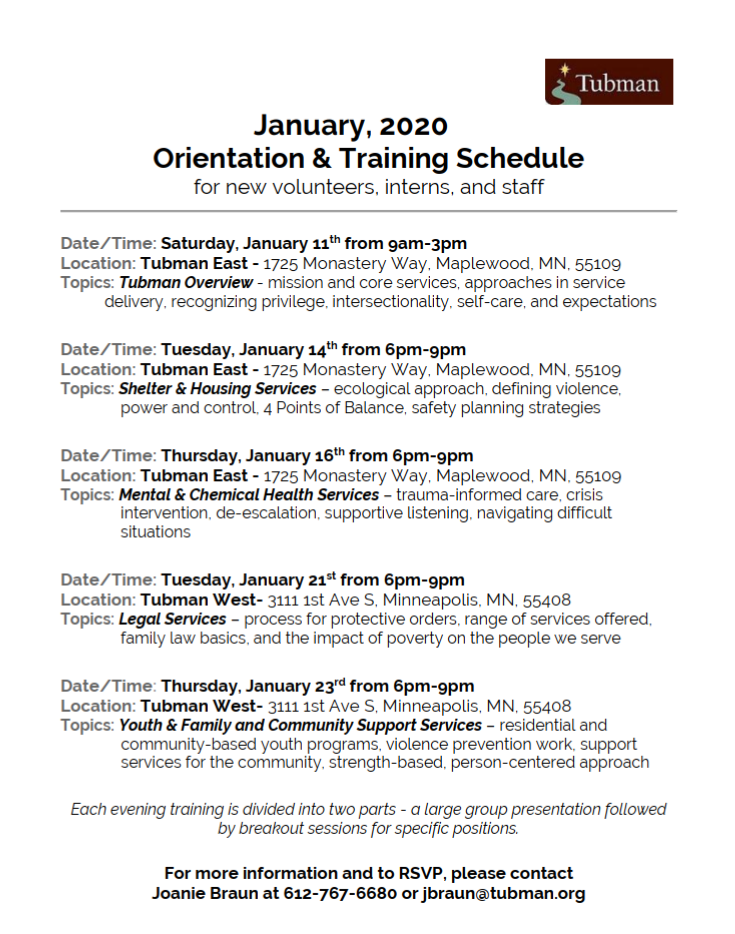 Upcoming Volunteer and Intern Trainings
October 2019 - Childcare, Administrative Assistant, and Harriet's Closet Volunteer Training

Monday, October 14, 2019: Group training and orientation
4-7 p.m.
Location TBD

Wednesday, October 16. 2019: On-site orientations
Locations and times will vary based upon position and site. Check back for updates!

A condensed version of our large Saturday training session, specifically for Childcare Assistants, the Administrative Assistant/Receptionist, and Personal Shopper in Harriet's Closet volunteers. The Monday, October 14th orientation will be followed by on-site orientations on Wednesday, October 16th.
Safety Project Attorney Trainings
September 24, 2019

Tuesday, September 24, 2019 - 8:30 a.m. to 12:30 p.m.
Presenter: Shiloh Bute, Esq., Tubman Senior Staff Attorney
Hosted by: Faegre Baker Daniels LLP
2200 Wells Fargo Center 90 S. Seventh Street
Minneapolis, Minnesota 55402

Please RSVP with your contact information to Katy Drahos at 612.870.2424 or safetyproject@tubman.org.